CLW HOWO 4 X 2 15M3 15000L 7 Tons LPG Tanker Truck Propane Gas Bobtail Tanker
Views: 414 Author: Site Editor Publish Time: 2019-07-27 Origin: Site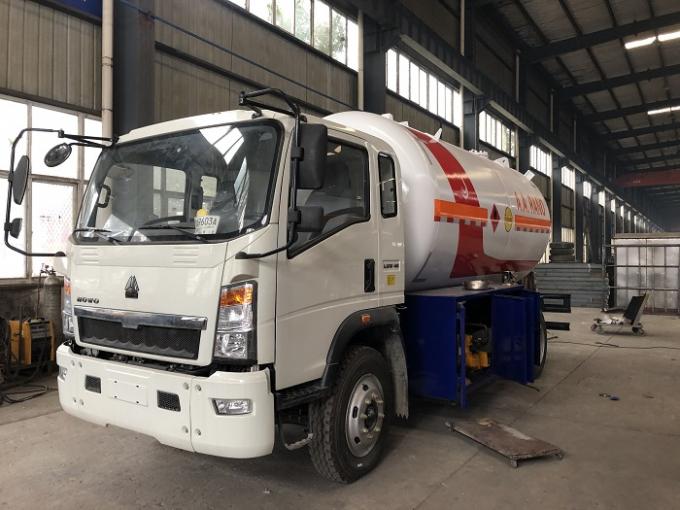 CLW 15000L LPG Gas Tanker Truck HOWO 4X2 7tons Propane Gas Bobtail Tanker 15M3
Product Description
CHENGLI SPECIAL AUTOMOBILE CO.,LTD IS THE ONLY BENEFICIARY FOR ALL THE BUSINESS. CHENGLI have no company who named HUEBI CHENGLI SPECIAL AUTOMOBILE CO.,LTD. All the HUBEI CHENGLI Account or company are fake information now.
1) Truck Brand of LPG Gas Tanker Truck: SINOTRUK Howo OR Other customized truck chassis brand: dongfeng, isuzu, foton, shcman and so on.
2) Tank Size of LPG Gas Tanker Truck: 15000 Liters,15000L,15cbm, or other customized volume as need.
3) Function of LPG Gas Tanker Truck: Propane or Butan Gas Delivery/ Refilling/bottling/filling
4) Refiling System of LPG Gas Tanker Truck: 2" Flowmeter or intelligent filling dispenser machine,2" Corken or Chinese brand Pump,15meters Filling Hose Reel
5) Truck Spec of LPG Gas Tanker Truck: Yuchai Engine 140HP, WLY6T51 Gearbox 6 Forward & 1 Revers, 8.25R20 Tires
Specifications of 15000L LPG Gas Tanker Truck HOWO 4X2 7tons Propane Gas Bobtail Tanker 15M3
15000L LPG Gas Tanker Truck

Item No.

Parameters

Overall Dimension

7600x2230x2810 mm

Gross Vehicle Weight

12000 kg

Curb Weight

5000 kg

Loading Weight

7000 Kg

Wheel Base

4700 mm

Front/rear Overhang

1115/1485 mm

Front/rear Tread

1586/1530 mm

Approach/Departure Angle

18/12 degree

Engine

Chaochai engine CY4E160-33 Diesel Engine( Mechanical Pump), Four Stroke,
4 Cylinder in line.

Engine horsepower

160 HP Euro II

Displacement

4257mL(Diesel)

Full loading Fuel
Consumption Rate

203g/kW.h

Max Driving Speed

100 km/h

Gear Box

Manual Transmission 5 Forward & 1 Reverse Gear

Cabin

Left Hand Driving, 2 Passengers Allowed, with Air Conditioner

or RHD Customized

Tire

8.25R20,6 pieces with 1 spare tire.

Tank Capacity

15,000 Liters

Filling Content

Liquefied Petroleum Gas (Propane)

Tank Material

Q345R high tension steel, 10mm Thick Tank Body.

Standard Equipment

Safety Valve, Level Gauge, Pressure Gauge, Thermometer, Emergency Shut-off Valve, Tool Boxes, Anti-static Grounding Tape.

Specification

Designed Pressure: 1.66Mpa
Liquid Density: 500-590 kg/m3
Working Temperature: under 50 centi-degree
Corrosion Allowance: 1mm
Quick feedback to solve your questions

Professional engineering and production team

Related Accessories and spare parts offered,no future worries

Regular customer after-sale visiting

Free technical staff training and guidance

Reasonable price and good quality

Quick delivery and shipment

Email: info@clwvehicle.com
FAQ
Q1: What kinds of LPG products I can order from your company?

A: CHENGLI SPECIAL AUTOMOBILE CO.,LTD(CLW GROUP) specialize in producing 5CBM to 200CBM LPG above ground storage tanker, 5CBM to 120CBM LPG underground storage tank, 5CBM to 38.5CBM LPG tank truck, 5CBM to 25.5CBM LPG dispenser truck/LPG bobtail truck, 40CBM to 61.9CBM LPG semi trailer and 5CBM to 50CBM LPG Skid Station/LPG mobile filling station etc. Please feel free to contact us for details.
Q2: What is your production standard of LPG products? Can you manufacture your products under ASME standard?

A: Usually our LPG products adopts GB-150/China standard, there ASME standard for optional. Yes, we can do ASME standard and our ASME standard as per DIV 01 SEC VIII.
Q3: Have you supplied LPG products to any renowned companies?

A: Our group company is a regular strategic partner of some big gas companies. We have supplied many storage tanks and semi trailer for them with different sizes,such as MRS, MATRIX,AARANO,NIPCO,LAKEGAS, ENCO and other oil and gas company...The biggest size tank we ever provided is 200m3 LPG storage tanks,.
Q4: What about warranty?

A: Equipment warranty is 12 months from the date on which the equipment is applied successfully into operation, or 13 months from the date on which the equipment has been delivered, whichever comes first.
LPG tankers warranty is 10-15 years from the dete of delivery. All the tank can work more than 15 years at least and need to inspect it when the year reach 10 years.
Q5: Where is your factory? How far from Hongkong, Shanghai or guanGzhou to your factory?

A: Our factory based in Suizhou city, Hubei province, China. Our overseas marketing office in Wuhan. Wuhan is two hours' plane from Beijing, Hongkong, Shanghai or Guangzhou city, or For the fast trains, 4.5 hours high speed train from hongkong, 4 hours from guangzhou, 4 hours from shanghai. We welcome you to visit us for factory inspection at any time.
Customized LPG, Truck & Trailer Solutions to Meet Your Requirements