What is the working principle and structure of water tank truck
Views: 340 Author: CLW group-Water tank truck workshop Publish Time: 2018-04-03 Origin: Site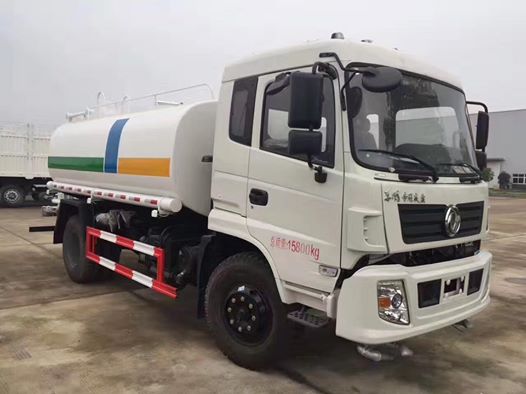 What is the working principle and structure of water tank truck
Water spraying truck (also called water tanker truck, water tank lorry, mobile water truck, water tank, water bowser truck, water truck sprinkler, drinkable water truck) is used to transport and supply water, whatever industrial or agriculture water, widely used in construction engineering, farm irrigation, draught relief, etc.
With non-toxic treatment inside tank or tank made of stainless steel, the water tank truck can be suitable for transporting drinking water, called as potable water tanker, drinking water tanker, stainless steel water tanker, agua potavel, safe to human body.
Here are the brief Introduction of working principle and structure of water tank truck:
1.structure drawing
Water Canon Sprinkler Tank Brand truck chassis
Rear Sprinkler Pump and pipeline system Front Sprinkler
2.Chassis
Water bowser tank truck adopts second class chassis.
3.Tank of the water tanker truck
Structure shown as below drawing, tank shape can be oval or bread, made of carbon steel. The tank is adopted 2~3 compartments, the compartment board has holes underneath, whose function is to reduce the shock of wave to the tank while moving. To proof of corrosion, tank inside is non-toxic and anti-corrosion treated, and tank surface is painted anti-corrosive and decorative paint.
A. tank head B. hand rail C. manhole D. ladder E. rings F. Support G. secondary beam H. Tank I. Water canon J. compartment board K. anti-wave board L. Burette
4.Manhole of the water bowser truck
The round manhole cover is adopted with breath hole, which keeps the pressure of the tank inside and outside equal when filling in water.
A. Handle B. small cover C. large cover D. rotary pin
5. PTO
The PTO of water truck series is controlled by switch. When Open the pneumatic switch, the gear of PTO enters into engage position. Through the shaft drive the pump working. When close the pneumatic switch, the pump stops working immediately.
6.Pump
The structure principle and maintenance are attached. please find attachment "pump instruction manual"
7.Ball valve
There are usually one piece of four-position tri-link ball valve and six pieces of duel-link ball valve in water spraying truck. The four-position tri-link ball valve is a kind of ball valve which can shape three liquid channels. This ball valve can quickly change the direction of liquid. It is widely used in non-corrosive medium. It is through the position of handle to makes any of two holes open or close.
1-handle
2-O-shape sealing ring
3-valve stem
4-ball valve
5-O-shape sealing ring
6-sealing
7-adjustment base
8-valve
8.Sprinkler of the water truck
The front of the car is equipped with duckbill nozzle or round red mouth, the back is equipped with a cylindrical watering mound, side showers. Rear of car is mounted with antiaircraft gun(Optional). Sprinkers are generally used for washing streets, eliminating the dust and cooling air. The water sprinkler can be adjusted to change Sprinkler spraying direction and angle, antiaircraft gun can be used to effect urban and rural areas and emergency fire engines. Shower nozzle can be poured down Middle of the road washing dust and clean the air.
9.Accessory list:
PTO 1
Water Pump 80YHCB-60/ 60YHCB-30 1
Aluminum Alloy Ball Valve Φ50 1
3-Way Ball valve Φ65 1
3-way filter net Φ65 1
stainless steel ball valve Φ25/Φ50 7
flange outlet Φ65 2
sprinkler gun 1
fire hydrant 1
Above configuration is for standard configuration, the customers can change the configurations if have any special requirements.
If you are interested in the water bowser truck, then this article may have helped you. If you want to know more professional details about the water truck, please contact us. And if you want to learn how to operate and maintenance the water truck, we also provide you the details: How to operate the water bowser and water spraying truck, How to maintenance water tank truck