What scenarios are the aerial platform trucks used in?
Views: 3 Author: Site Editor Publish Time: 2021-06-08 Origin: Site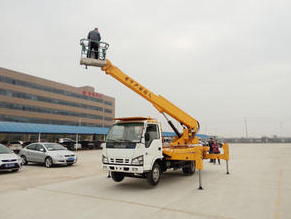 When asked what scenarios the aerial platform trucks are used in, we will not only find that the aerial platform trucks cover a large spectrum of functions and applications for different businesses, but also find that they provide the departments with extremely powerful tools for rescue, ventilation, and extinguish the fire. This article will help you learn more about the usage of aerial platform trucks.

The Content list:
1.Scenarios that the aerial platform trucks are used in
2.Special situations
Scenarios that the aerial platform trucks are used in
1.Worksite
Aerial work platforms play a significant role at worksites - particularly for the construction of electrical and telecommunication infrastructures - that are essential for daily life. A variety of models are also available for general construction.
Factors such as rising population and strong economic growth in many developed and developing countries have increased the spending on infrastructure development projects and residential projects. This has significantly increased the construction of high-rise buildings and skyscrapers. Aerial lifts are extensively used in the construction of high-rise buildings as they are compact and can easily reach greater heights in confined spaces. With the growing number of construction activities, the demand for aerial lifts will increase significantly during the forecast period.
2.Rescue, and fire extinguishing
Aerial platform trucks provide the department with an extremely powerful tool for rescue, ventilation, and extinguishing fires.
The severe injuries and deaths the fire service has experienced could have been avoided if people were using appropriate safety belts or fall arrest harnesses when on the platform. The first line of defense in keeping people safe on the fire ground is the use of personal protective equipment (PPE). When working on an aerial device, this must include a ladder belt or safety harness.
A short belt and hook is considered a travel restraint and is used to limit movement to the confines of the platform; it is rated for a 450-pound anchorage. A fall restraint has a belt and hooks with a lanyard, allowing 18 to 24 inches of movement and a 900-pound anchorage rating. A fall arrest system uses a body harness and shock absorbing lanyard and is used to arrest an occupant in a fall with an anchorage rating of 1,800 pounds.
With your ladder belt and tether in place, it is important to develop good disciplines for using them. The NFPA recommends that you should be tethered to a platform anchorage point on the platform any time the device is in motion and whenever you are off the ground unless you are actively climbing or descending the ladder or entering or exiting the platform.
Special situations
1. Sloped surfaces. Do not operate the aerial platform truck unless the truck can be leveled within the manufacturer's guidelines. Manufacturers generally provide turntable level indicators, usually colored green (full capacity), yellow (50 percent capacity), and red (no capacity), on the vehicle to indicate the truck's level status.
2. Windy conditions. Aerial devices are designed to operate in windy conditions up to a point. Most manufacturers designate the maximum wind speed above which operations are not recommended.
3. Cold weather conditions. A substantial buildup of ice is probable in freezing weather when operating a master stream from the platform. The manufacturer will normally state the magnitude of ice buildup accounted for in the design and potentially on the load charts as well.
4. Electrical storms. An aerial platform acts like a big lightning rod if it is not insulated. If the on-scene emergency conditions dictate aerial use during a lightning storm, use extreme caution during operation to avoid severe personal injury.