How do aerial platform trucks work?
Views: 2 Author: Site Editor Publish Time: 2021-05-13 Origin: Site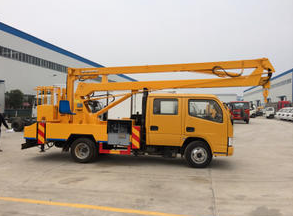 An aerial platform truck, also known as an aerial device, elevating work platform, cherry picker, bucket truck, or mobile elevating work platform is a mechanical device used to provide temporary access for people or equipment to inaccessible areas, usually at height. The aerial platform trucks are complex and require training to use them effectively. To operate it correctly and safely, this article will help you learn more about the working principles of this equipment.

The Content list:
What is the function of aerial platform trucks
The specifications and operating procedures of aerial platform trucks
What is the function of aerial platform trucks?
Aerial work platforms play a significant role at worksites - particularly for the construction of electrical and telecommunication infrastructures - that are essential for daily life. A variety of models are also available for general construction.
Because of their tremendous capabilities and working heights, elevating platform devices are highly engineered products that must be strong but lightweight. As a result, the vehicles on which the aerial platform devices are installed are complex and require skill and training to use them effectively. The key parameters regarding structural safety factors, truck stability, and many more key requirements are covered in detail in the 2016 edition of the National Fire Protection Association (NFPA) 1901, Standard for Automotive Fire Apparatus. The latest edition includes several changes that affect aerial platform design. The FAMA Apparatus Safety Guide is also an excellent source of information regarding aerial apparatus safety.
The specifications and operating procedures of aerial platform trucks
Prior to Elevating the Platform, the operator must ensure:
1. The surface is within the limits specified by the manufacturer.
2. Aerial work platforms must not be field modified for uses other than those intended by the manufacturer, unless a modification has been certified in writing by the manufacturer or by any other equivalent entity.
3. Outriggers, stabilizers, extendible axles, or other stability enhancing means, are used as required by the manufacturer.
4. Guardrails are not damaged and access gates or openings are closed per manufacturer's instructions.
5. Emergency ground level controls must be clearly marked as to their intended function and be capable of overriding the platform controls.
6. The load and its distribution on the platform and any platform extension(s) are in accordance with the manufacturer's rated capacity for that specific configuration.
7. There is adequate clearance from overhead obstructions.
8. The minimum safe approach distances (M.S.A.D.) to energized power lines and parts are maintained.
9. All personnel in the platform are wearing fall protection devices and other safety gear as required at all times
10. All of the following information must be clearly marked in a permanent manner on each aerial work platform: Special workings, cautions, or restrictions necessary for operation; Rated workload; A clear statement of whether or not the aerial work platform is electrically insulated.
11. Directional controls must: Be of the type that will automatically return to the off or neutral position when released; Be protected against inadvertent operation; Be clearly marked as to their intended function; Have an override control provided in the platform which must be continuously activated for platform directional controls to be operational and which automatically returns to the off position when released.
12. Aerial work platforms must be equipped with emergency controls at ground level.