Introduction of air cooling and dust suppression mist cannon on sprinkler truck
Views: 36 Author: Site Editor Publish Time: 2018-07-02 Origin: Site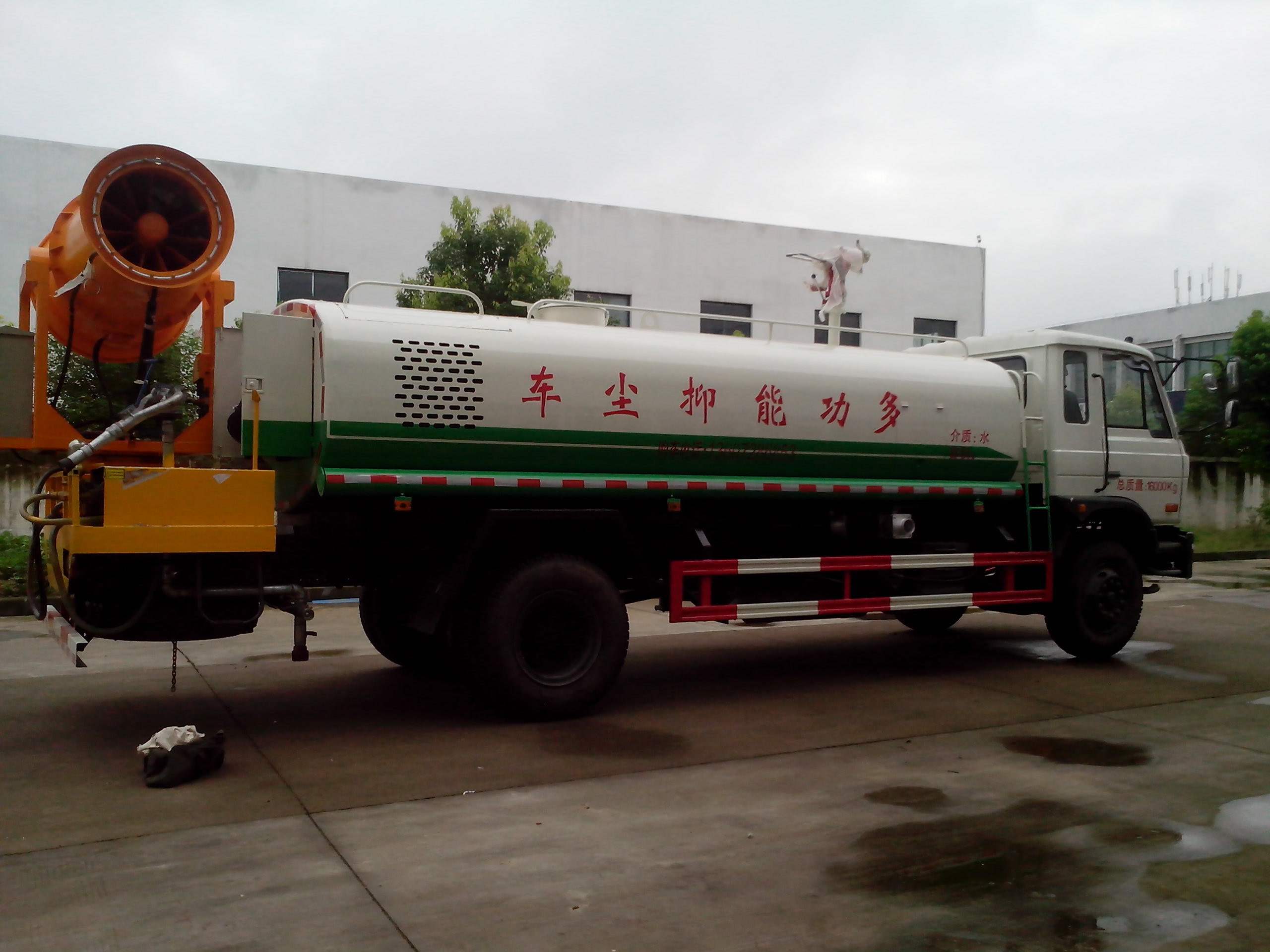 Introduction of air cooling and dust suppression mist cannon on sprinkler truck
As the temperature rises, the weather gets very hot. In many hot districts, people start to use the mist cannon which equipped on water sprinkler trucks for cooling and dust removal.
So what is a mist cannon?
A mist cannon is similar to water gun. But they are different both in configuration and application.
It consists of high pressure dust fan, water pump, nozzle, distribution box, remote control receiver, speed reducer, electric hydraulic push rod, rotating mechanism and the base.
The stainless steel nozzle can produce water mist to make the air cooling, and to suppress the source of dust particles. With the 45 degrees and 320 degrees on the angle of horizontal jet, it can ensure the maximum working range.
According to relevant report, the mist gun can reduce the concentration of PM2.5 in the air about 15% to 20%.
Usually, the mist gun is equipped on the water sprinkler truck. Nozzles under the truck spray water to the ground, and the mist gun spray mist in the air.
Further more, water sprinkler trucks mounted with

mist cannon

are also widely used for the following aspects:
1. Agriculture, forestry, shelter belt, maintenance of way and water, plant, coal field, cast iron factory, roads, demolition site dust and cooling, can also perform more efficiently.
2. the large area disinfection, vaccination of earthquakes, floods, fires and natural disasters, etc.
3. kill locusts and large-scale of agriculture, forestry, field shelter network, with fast-growing polar wood, forest, green belt along the highway, city street and other tall trees pest control
4. large scale sterilization epidemic prevention of enhance hormonal balance of garbage dump and stadiums.
Advantages of water sprinkler truck mounted mist cannon:
1. It's equipped with a road sprinkler system for road cleaning services.
2. With the front, rear, side sprinkler nozzles and high water gun, it can clean the streets, and used for fire fighting.
3. The mist cannon can rotate 320 degrees, which is flexible and convenient to use. You can control and adjust spraying elevation and depression angle and level rotation angle. It can spray while driving and be controlled remotely.
4. water tank capacity: 1Ton -30Tons available, large volume guarantees the long working distance.
Chengli Special Automobile Co., Ltd provides different brand chassis for you.
Dongfeng, DFAC, SHACMAN, SINOTRUK, HOWO, CNHTC, BEIBEN, FOTON, JAC, JMC, KAMA, etc.
steering: right hand driving or left hand driving, RHD or LHD.