What should be paid attention to when using aerial platform trucks?
Views: 4 Author: Site Editor Publish Time: 2021-06-10 Origin: Site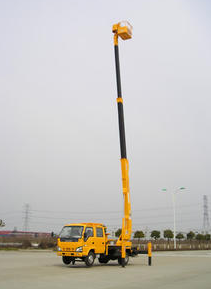 Because of the tremendous capabilities and working heights of aerial platform trucks, elevating platform devices are highly engineered products that must be strong but lightweight. As a result, the vehicles on which the aerial platform devices are installed are complex and require skill and training to use them effectively. Fortunately, this article will introduce you to the guidance and tips that you should pay attention to when using aerial platform trucks.

The Content list:
1.Operation guidance for the aerial platform trucks
2.Special situations
3.Safe practices for an aerial platform truck
Operation guidance for the aerial platform trucks
Aerial scenarios naturally create a stressful environment. Use your training and practice time to become confident in your abilities at the scene. Give your undivided attention to the aerial during operations.
In recent years, the technologies used in aerial work platform truck control systems have advanced considerably. These advancements can improve both the controllability and the safety of a platform.
The load charts or displays are located near the platform control console and at the turntable operator's position. Understanding these charts is critical to safe operations and effective performance.
All platforms have a rated capacity dry and a rated capacity while flowing water. The minimum dry capacity rating for a platform is 750 pounds, but most platforms are rated for 1,000 pounds. Platform ratings are commonly reduced 50 percent for water flow situations because of nozzle reaction forces. Manufacturers provide an additional allowance for equipment to be mounted in the platform and on the device. You must deduct equipment loads that exceed those values from the rated capacity. Any loads on the lifting eyes under a platform must be deducted from the personnel load in the platform.
Always know your truck first. Essentially, there are a number of sensors that determine position, load, outrigger stance, wind, and so on and control the envelope within which the platform can move.
Special situations
1. Sloped surfaces. Do not operate the aerial platform truck unless the truck can be leveled within the manufacturer's guidelines. Manufacturers generally provide turntable level indicators, usually colored green (full capacity), yellow (50 percent capacity), and red (no capacity), on the vehicle to indicate the truck's level status.
2. Windy conditions. Aerial devices are designed to operate in windy conditions up to a point. Most manufacturers designate the maximum wind speed above which operations are not recommended.
3. Cold weather conditions. A substantial buildup of ice is probable in freezing weather when operating a master stream from the platform. The manufacturer will normally state the magnitude of ice buildup accounted for in the design and potentially on the load charts as well.
4. Electrical storms. An aerial work platform acts like a big lightning rod if it is not insulated. If the on-scene emergency conditions dictate aerial use during a lightning storm, use extreme caution during operation to avoid severe personal injury.
5. When elevating the aerial near power lines, personnel on the ground should stand clear of the vehicle and avoid stepping onto or touching the vehicle until the aerial is in a safe position with respect to the overhead power lines.
Safe practices for an aerial platform truck
Fall protection is required on aerial platform trucks. Fall protection should consist of a full-body harness for each person in the lift and either a shock-absorbing lanyard or a retractable lifeline. The retractable lifeline must be used if the elevated work is less than 18 feet high. Belting off to an adjacent pole, structure, or equipment while working from an aerial work platform is not permitted.