What are the characteristics of a LED truck?
Views: 7 Author: Site Editor Publish Time: 2021-09-26 Origin: Site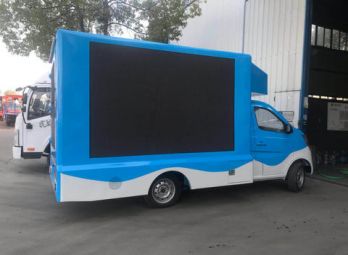 LED truck have 8 major advantages, which are a good way of advertising for products and brands that are being promoted by outdoor advertising. The outdoor advertising LED truck is an outdoor LED advertising LED truck, which can be driven to the square or pedestrian street during the holidays according to the needs of customers.
Propaganda anytime, anywhere
Wide spread among people
Convenient and flexible
low cost
Innovative media
On-site promotion
production advantage
With measurability
Propaganda anytime, anywhere
LED truck is not restricted by geographic location, and can be in-depth and extensively promoted in any precise target market area required by customers, such as streets, communities, business districts, etc., according to customer needs.
According to the needs of customers, it can shuttle back and forth on fixed routes throughout the day, or choose the publicity route by the LED truck it self, to get rid of the constraints of the geographical environment, and has the characteristics of strong liquidity and a wide audience.
Wide spread among people
Outdoor advertising LED trucks to advertise for 8 hours a day, the distance within the area can reach about 50 kilometers, and its advertising audience can reach more than 200,000 people
Convenient and flexible
can move freely, no need to use a variety of cumbersome equipment to assemble and build a platform, the International Business News only needs one LED outdoor mobile advertising LED truck to solve it all.
low cost
There is no need to purchase expensive video and other hardware equipment for the LED truck, no need to hire professional and technical personnel, and no need to rent a variety of audio-visual equipment and stages required for events.
You only need to pay a low rental fee, we can solve everything for you, so that stable, professional and high-quality LED outdoor mobile advertising LED trucks can be used at any time.
Innovative media
The advertising screens on the advertising LED truck can be varied in color and shape according to the characteristics of the product, with unique shapes, brilliant colors, and full of three-dimensional effects, which have a strong visual impact.
On-site promotion
On-site display, communication, and interaction with target consumers at key points in prosperous commercial spots, squares, parks, etc., and a wide range of promotions can enable customers to obtain the greatest advertising of LED truck's effect.
production advantage
We have a group of professional video editors. Hebei Expressway Advertising provides one-stop service of design and production for various businesses, saving worry, money and time.
With measurability
Equipped with GPS positioning system: Customers can check the current location of the LED truck and the range of the LED truck during the cooperation period at any time.
Brief summary
I don't know if you are interested in LED trucks. Its features are obvious, that is, the two or one LED advertising board. Generally speaking, the double-sided LED trucks with the highest sales are the two-sided LED trucks. Browse the website for the information you want to see.