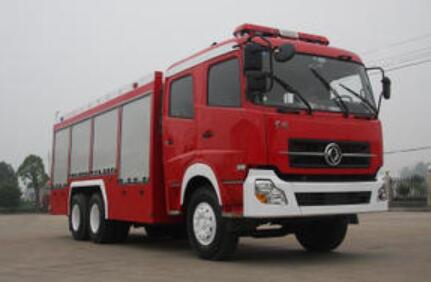 Fire fighting trucks can transport firefighters to the disaster site and provide them with a variety of tools for disaster relief tasks. Fire fighting trucks are not uncommon in my daily life, but how much do we know about the specifications of fire trucks? Here are some introductions.
Here is the content:
Color

Composition

Equipment
Color
Fire fighting trucks in most countries are red. Because it is the most eye-catching, it can be seen from a long distance. However, according to an investigation by the New York Department of Transportation, there are 32 accidents for every 100,000 red fire fighting trucks. If the fire fighting truck is painted in a more vivid yellow, for every 100,000 vehicles dispatched, only 14.5 accidents occur, a drop of more than half. Because the light color will outline the fire fighting truck appear larger, and it will feel closer to you, which is beneficial to traffic safety. So, they advocate painting the fire fighting truck yellow. But the fire department firmly opposes this, because yellow makes people emotionally stable and reduces the efficiency of fire fighting, while red can stimulate the fighting spirit and inspire people.
Composition
The special part of the water fire truck consists of a liquid tank, pump room, equipment box, power output, and transmission system, piping system, electrical system, etc.
Equipment
Fire equipment
Conventional configuration of fire fighting equipment for water fire truck: fire suction pipe (diameter 10 cm, 4 meters long) × 2, water filter × 1, fire hose (diameter 6.5 cm, 20 meters long: diameter 8.5 cm, 20 meters Long)×2, hose hook×4 pieces, hose cloth×4 pieces, reducing interface (diameter 6.5-8.5cm)×2 sets, same type interface×1 set, DC water gun (diameter 6.5cm)×1 Set, flower water gun×1 set, DC switch water gun×1 set, foreign pick×1, ground wrench×1, waist axe×1, fire fighting axe×1, shovel×1, prying×1. The water fire truck is also equipped with air foam guns, water guns, fire suction pipes, water filters, water separators, fire hoses, hose hooks, hose wraps, reducing interfaces, same type interfaces, DC water guns, and fire hydrant transitions Connectors, flowering water guns, DC switch water guns, sheep picks, ground wrenches, suction pipe wrenches, belt bridges, mixer suction pipes, waist axes, fire fighting axes, shovel, and prying.
Rescue equipment
Water fire trucks are usually equipped with pull ladders, bamboo ladders, iron ladders, etc. (overhead), motorized chain saws, hydraulic expansion clamps, portable universal cutters, climbers, lifting air cushions, pneumatic rescue tools, gas cutters, Axe, pickaxe, pliers, spade, etc.
Protective equipment
Water fire trucks are usually equipped with fire helmets, fire fighting clothing, fire gloves and boots, fire safety belts and safety hooks, breathing protection equipment, built-in heavy chemical protective clothing, enclosed chemical protective clothing, fire and chemical protective clothing, military protective clothing Chemical protection and nuclear clothing, simple chemical protection clothing, fire protection clothing, mobile gas supply, dual gas cylinder respirator, multi-purpose canister, chemical protection gloves, electrical insulation gloves, cut protection gloves, high-temperature protection gloves, chemical protection Safety boots.
Chengli Special Automobile Co., Ltd has been engaged in fire fighting truck research for many years. If you are interested in our cost-effective products, you can contact our company. Our website is https://www.clwvehicle.com/.