What is a vacuum truck?
Views: 2 Author: Site Editor Publish Time: 2021-07-27 Origin: Site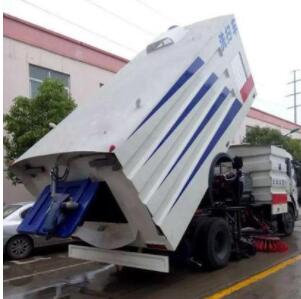 Trucks that can be used to pump everything from residential septic tanks to contaminated soil become vacuum trucks. A vacuum truck is a new type of sanitation vehicle that can collect, transfer and remove sludge and sewage to avoid secondary pollution. Vacuum trucks can be self-absorbing and self-draining. It has the advantages of fast working speed, large capacity, and convenient transportation.
Here is the content list:
What is a vacuum truck made of?
Under what circumstances can vacuum trucks be used?
What is the working material of a vacuum truck?
What do vacuum trucks bring to our lives?
What is a vacuum truck made of?
A vacuum truck usually consists of a storage container and a suction motor mounted on the truck chassis. The special part of the high-pressure suction vehicle consists of a force extractor, transmission shaft, vacuum suction pump, pressure tank, hydraulic part, pipe network system, vacuum pressure gauge, primary manure window, hand washing device, etc., with the vehicle configuration of high-power vacuum suction pump and high-quality hydraulic system, tank seal once die-cast molding, the tank can be opened, double-top dumping. Vacuum means a gas state below atmospheric pressure in a given space. The physical vacuum is a sea of constantly fluctuating energy. When the energy reaches its peak, energy is converted into a pair of positive and negative elementary particles, and when energy reaches a trough, a pair of positive and negative elementary particles annihilate each other and are converted into energy. Vacuum trucks are the new clean cars based on this characteristic.
Under what circumstances can vacuum trucks be used?
Transport of liquid substances such as manure, mud, crude oil In the existing technology, vacuum trucks use vacuum pumps from vacuum trucks to pump out pump bodies, which are particularly suitable for sludge, especially sludge, sludge, stone extraction, transport, and discharge of large brick objects. During the suction process, the suction hose is always immersed in the liquid surface. After the air in the sludge tank is inhaled, it becomes thinner and thinner because it cannot be replenished, so the pressure in the tank is lower than the atmospheric pressure, the sludge is under pressure in the atmosphere, it enters the sludge tank through the sludge tank, the suction pipe, or because the siphon pipe is close to the bottom of the tank, and the air is constantly discharged into the sludge tank because there is no way out, the air is compressed, resulting in the pressure in the tank is higher than the atmospheric pressure. Under the action of compressed air, sludge is discharged through siphons and suction pipes outside the tank. Vacuum trucks are sometimes classified according to their design to pump wet and dry materials, capacity, weight, etc., and vacuum motors can be driven by truck engines or special gasoline or diesel engines. Vacuum trucks are usually specially built on heavy-duty chassis, and despite the presence of sliding-in devices that can be mounted on truck beds or trailers, loose material must be removed from the drill at any time, or vacuum trucks can be used. Vacuum trucks typically use pump tubes between 1 and 4 inches (2.5 to 10 cm) in diameter, although this may vary depending on the job.
What is the working material of a vacuum truck?
Materials can be sewage from septic tanks or sewers, contaminated soil on-site, brine from well-drilling sites, or anything else. Liquids often require a vacuum truck that is different from solids, as pumps designed to handle liquids may not function properly when dealing with more solid substances.
What do vacuum trucks bring to our lives?
Vacuum trucks bring a certain degree of improvement to our lives, can transport people's household waste, waste in a relatively short period. At such a fast pace, the use of vacuum trucks is necessary.