60 CBM LPG TANKER TRAILER
Views: 304 Author: Site Editor Publish Time: 2018-08-04 Origin: Site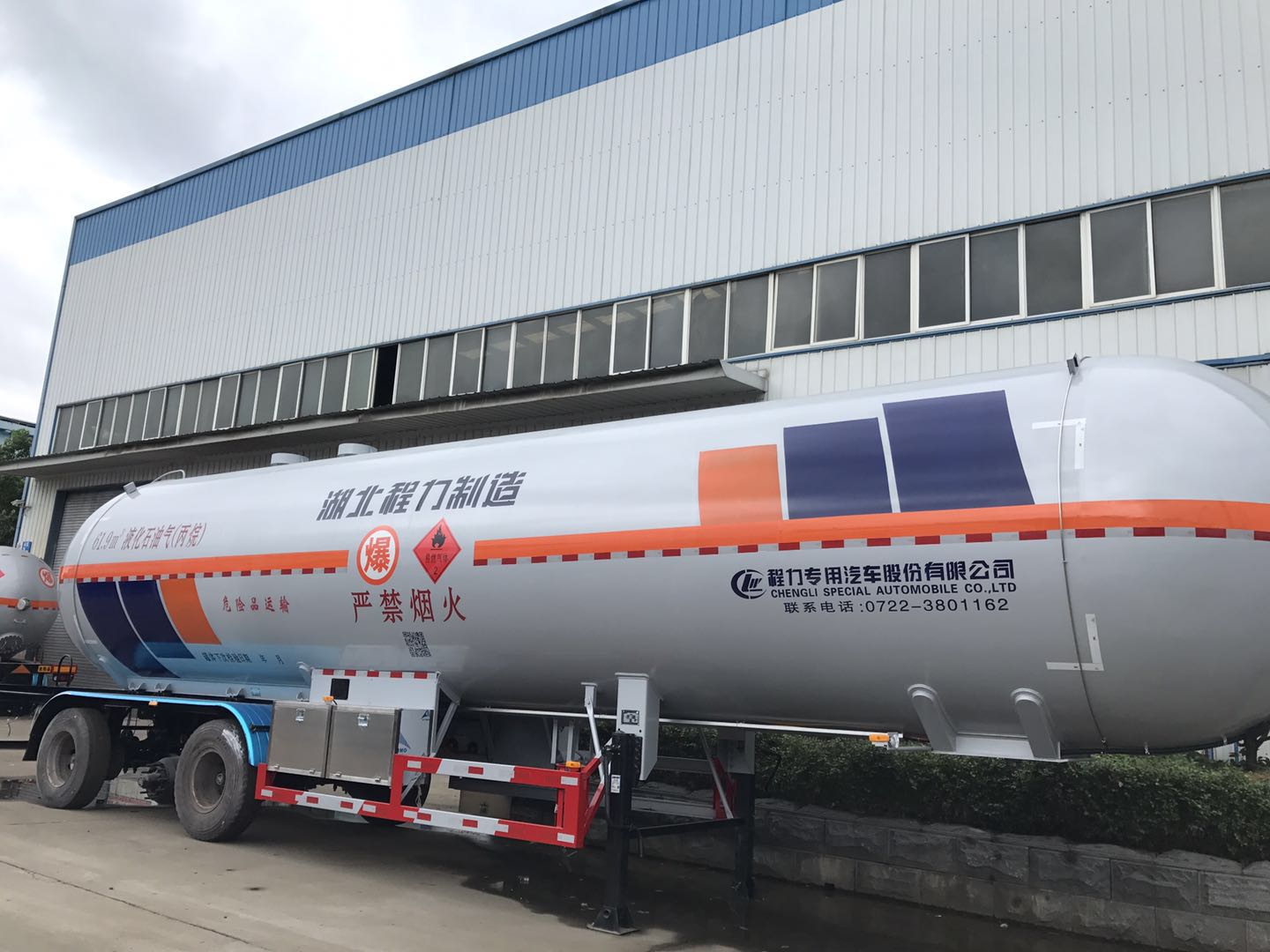 CLW Group is a professional LPG products manufacturer in China, and it has already passed ISO9001-2000 international quality system and 3C authentication as well as ASME authorization .LPG products include LPG storage tank, LPG tank semi trailer, LPG delivery truck, LPG bobtail, LPG skid station, LPG gas plant and LPG accessories .
1.The biggest LPG truck's valid volume is 37.2 cbm ;
2.The biggest LPG trailer's valid volume is 61.9 cbm ;
3.Our LPG storage tank is from 3 cbm to 250cbm, both ground and underground.
CLW LPG Tanker Trailer use flowmeter and pump for discharging and ST material on body of tank for 11 or 12 mm thickness. According to demand they can change the size and technical details. There are some highlights for LPG Tanker Trailer .
Capacity: 20 – 61.9 Cbm
Testing Controls: Hydrostatic pressure test , Size Control , Control and Certification of Materials, Radiographic control
Certificate: Inspection Certificate from TUV or SGS (design, calculations, material, visual, dimensional, plates, head control, heat treatment report, penetration dye test)
Axles: BPW
Accessories: JOST leg and king pin
Body: Stainless steel or carbon Steel usage
Brakes: ABS and EBS brake system
Suspension: Air and Mechanical Suspension
Rims: Steel or Aluminum Rims
LPG Tank Trailer Specification




Volume of Tank

60000Liters




Overall Dimensions(L*W*H)(mm)

13000*2500*3990




Tank Dimensions

(Inner Diameter*thickness*Length)

2478*11*12791




Estimated Tare Weight (kg)

15430




Payload(kg)

24570




Total Weight(kg)

40000




Wheelbase(mm)

7230+1310+1310




Shell of Tanker




Products

Liquefied Petroleum Gas (propane)




Fluid Property

Flammable




Design Temperature(℃)

-19℃~50℃




Design Pressure(MPa)

1.61




Corrosion Allowance(mm)

1.00




Weld Joint Factor

1




Major Materials

Tanker body:Q345R,11mm,




End plate:Q345R,11mm,double ellipse




Main beam:16Mn




Quality Control Process




Heat Treatment

Overall treatment in a furnace,600℃ to 640 ℃




Riagraphic Test

100% X-ray Detection




Test Pressure(MPa)

1.61




Hydraulic Test(MPa)

2.21




Magnaflux Inspection

For Pipe & flange connection




Manhole (As Customer's Requirement)




Quantity

1 on the top ,DN450/DN500




Safety Valve(As Customer's Requirement)




Quantity

1




Location

On the top of tanker




Size

DN100




Level Gauge

3*13T Fuwa




Type

Manuel Switch type / ROTO Gauge




Location

At the rear of the end plate




Running System




Axles

3*13T BPW Axles




Tire

12R22.5 Tubeless tire ,12 pcs plus one spare tire




Landing leg

JOST




King Pin

#50(2") or #90(3.5")




Control System




Emergency Cut-off Valves

2




Ball Valve

2




Liquid Gauge

1




Pressure Indicating Thermometer

1




Pressure Gage

1




Accessories

Small Tool Box

2

Valve Box

2

Wheel Carrier

1

Fire Extinguisher

2

Fender

6

Paint

As Customer's Requirement

Standard: Pressure vessels, Supervision Regulation on Safety Technology for Stationary Pressure Vessels